Come to the University
Université de Montpellier
Site Nord - Campus Triolet
Place Eugène Bataillon
34090 Montpellier
Since January 1st 2015, the University of Montpellier includes all law , health, science and technology faculties. The laboratory IMAG is located on the Triolet campus of the new university, at the point indicated on google maps above.

Location of the conference

On the Triolet campus, the conference will take place in the buildings 9 and 10, in pink on the map bellow (be carefull with the direction of the North on the map).

The oppening session, on monday, will be in building 10 (room SC 10.01).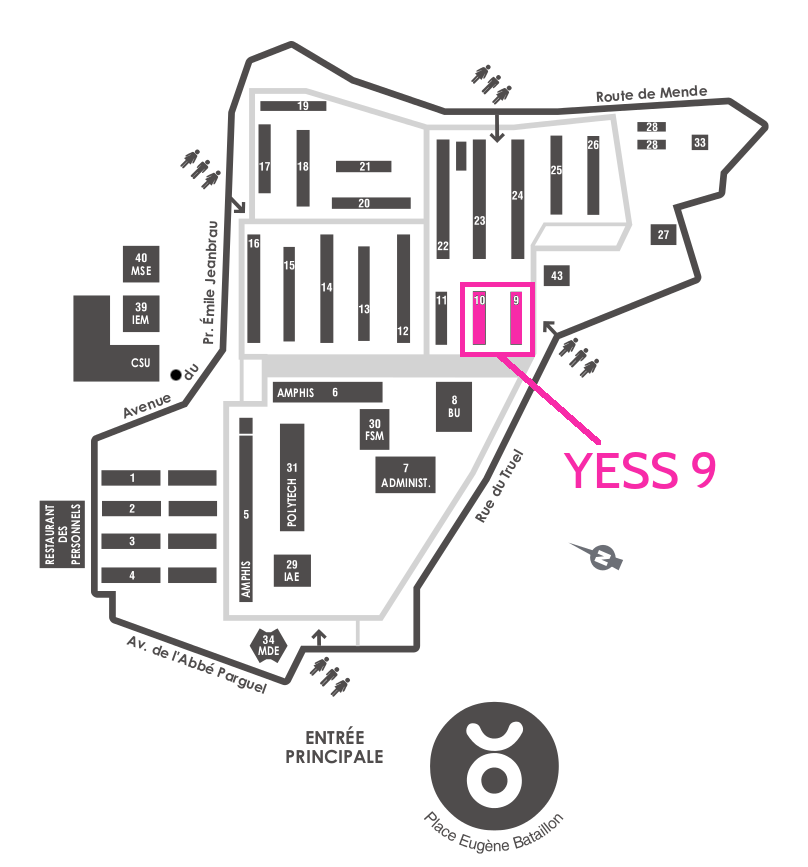 Get to Montpellier

The main station is located in the city center (called Montpellier St Roch Station). Map

Since July 7th, a second train station has opened in Montpellier, called "Montepllier Sud de France". Map

There are several daily trips Paris-Montpellier in 3:30.
The International Montpellier Airport is located at 10 km from the city center. Several daily flights link with Paris-Charles de Gaulle and Orly West in 1:10. It is a small international airport with direct connections from/to the main french cities and some european ones.
From the airport: A shuttle (Hérault Transport, bus line 120) will take you in 15 minutes to the tram station "Place de l'Europe".

TAXIS
Taxi T.R.A.M.